Series: The Infernal Devices #1
Published: August 2010
Genre: fantasy, paranormal, steampunk, romance / young adult
Goodreads
In a time when Shadowhunters are barely winning the fight against the forces of darkness, one battle will change the course of history forever. Welcome to the Infernal Devices trilogy, a stunning and dangerous prequel to the New York Timesbestselling Mortal Instruments series.

The year is 1878. Tessa Gray descends into London's dark supernatural underworld in search of her missing brother. She soon discovers that her only allies are the demon-slaying Shadowhunters—including Will and Jem, the mysterious boys she is attracted to. Soon they find themselves up against the Pandemonium Club, a secret organization of vampires, demons, warlocks, and humans. Equipped with a magical army of unstoppable clockwork creatures, the Club is out to rule the British Empire, and only Tessa and her allies can stop them…
If you follow my TBRs, you know that I originally started this series and could not get pass the second book so I was a bit afraid when I picked it up again but, to my surprise, it was more enjoyable than I remember or even expected.
When I first picked up the book I did not even read the synopsis; I had previously read the first Mortal Instruments books so knowing this was another series set in that world was enough for me to get the book. It is not necessary, however, to read The Mortal Instruments before The Infernal Devices, there are a lot of different reading orders, but I am going in order of publications because even though they are separate series, some characters appear in both of them and I want to catch every single detail.
I forgot a lot of things about this book so it was like experiencing it for the first time for me. It is a very different plot and idea from the Mortal Instruments  but it has some common elements too. One thing that surprised me, however, is how different the explanations about the world and the different species are given. Compared to the Mortal Instruments, The Infernal Devices goes straight to the point and does not wait around to explain some basic things. Granted, I had some advantage because I had read other books set in the Shaowhunters world, but I still felt like the information given was not as detailed or well put as in the Mortal Instruments.
It is also very helpful to have Tessa, who is such a compassionate and good character, at the center of everything because she, like the reader, is still not familiar with the world, so we learn along with her. Again, it is not something that will come up as boring for those that are already well acquanted with it, because it is not simply repeated, but both the characters and the circumstances in which they are presented, are very different indeed. I loved seeing such unique characters and not falling into the same molds we did in the other series; all creatures have their own motivations and their own place in the story. I appreciated to be able to see a new side of them.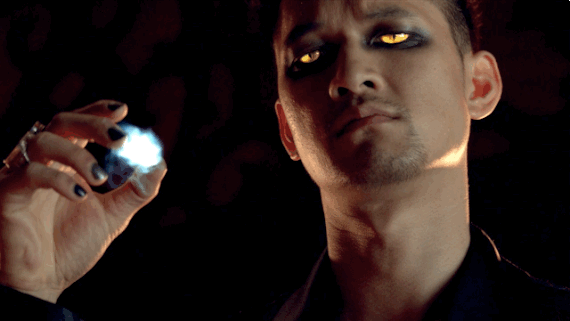 For our main trio, apart from Tessa, we have Will and Jem and the first time I read Clockwork Angel I enjoyed Will's character way more and didn't care that much about Jem but now that has been flipped. I liked how Tessa interacted with all the shadowhunters and it is intriguing to see how everything worked in the 19th century. I liked our secondary characters and even though some views were strange to read from our perspective, it is nice to see how these thoughts have evolved, not only throughout the book, but throughout the Shadowhunter books.
The story is quite humane for a paranormal book. There are downworlders involved, and they are a huge part of the story, but there is also a big science verus magic storyline that I found quite fascinating, different an fitting for a book like this. It is alsoa bit strange an funny to see how shadowhunters can be so advanced, yet so old-fashioned at the same time, time period apart.There is a bit of a shift in the story in this book that was amazingly done and I am intrigued to see how the story moves forward and I am happy to not have given up on The Infernal Devices.
---
Do you agree with me? Which is your favourite Cassandra Clare book? Which is yoru favourite character in The Infernal Devices?